What's Happening
Now is your chance to get a little extra while shopping for your loved ones.
You're not just going to save money when purchasing gift cards! When you purchase a gift card worth $100 or more, you will receive a must-have Bellasazi wine glass, and a complimentary wine tasting at Timber Hill Winery.
With limited supply, this is an opportunity you can't pass up!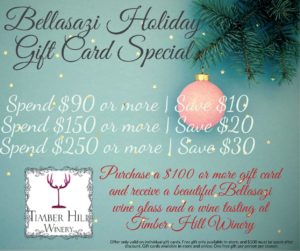 Save the Date for Bellasazi's Favorite event..the Annual Holiday Open House. Whether it is our traditional in-salon event or if it has to be a virtual open house the show will go on and it will be big so SAVE THE DATE!